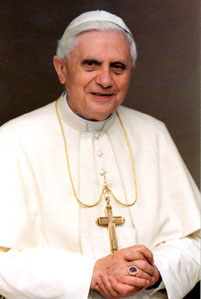 It seems like the whole world is reacting with some sort of almost apocalyptic sentiment about the impending retirement of the current Roman Catholic Pope (read a translation of his actual statement at The Lonely Disciple). Everything from shock and surprise, to derision and cynicism, to fear and phobia has been expressed either to me or around me concerning this announcement by the current occupant of the Holy See. I'll admit, when I heard the news this morning, it did surprise me but more on the lines of "Well, I didn't see that coming" instead of "Holy Cow! What the heck happened?!?" I've been pondering over my reaction this morning and the over-heard reactions of others and I'd like to give some thoughts on them. Please understand that I'm not trying to make some sort of judgment call as to who is right or wrong or what not. Instead, these are thoughts, based in reality and my own spiritual journey, concerning what's going on in the Catholic church.
Shock and Surprise
There seems to be, at least from what I've overheard on the news and such, some sense of a grief-like shock that has hit many folks within the Catholic community concerning Benedict's announcement. This might not be a majority view but may simply be the way the news has announced it and their underlying agenda of getting readership/viewership/listenership. I do not know the motivation behind the sentiment, though, at least not from direct experience. I hope that any readers of mine of Catholic background or of current Catholic affiliation may be able to respond to this.
I suspect, though, at least for some, that this sense of shock comes from the same sense of permanence that many Protestants and even Anabaptist folks have when one of their own leaders suddenly steps down or steps away from ministry. God has called them to that ministry, they are so gifted and blessed in what they are doing, to consider that they are not going to be there at some point in the future is inconceivable. Just pondering it over in my own head, what would happen if next Sunday my own pastor announced his resignation due to health concerns? Wouldn't I feel the same sort of shock and grief? After all, he is such an excellent teacher and spiritual man. Our church won't be the same without him. Will we ever survive?
Or, let's stretch it outward. Someday in the not too distant future, Rick Warren will retire. What will happen to Saddleback church? Will it survive? Will the ministries of that community ever be able to recover from such a devastating event?
In this, I think all of us human beings in the church are guilty of the same problem, that being of putting too much emphasis on the person in the position of leadership and not enough on the eternal Lordship of the true head of the church, Jesus. The manifestation of our own leadership structures is a secondary to Jesus' leadership. We cannot forget this. For the Catholic church, for at least 600 years, the human leadership has been semi-permanent, only broken by that "enemy" death to which all mankind is subject (at least for now). Perhaps this voluntary retirement has such a great impact because instead of it being the "inevitability of death", it is simply the advancement of age and a matter of choice. I think, though, that this advancement of age is just as inevitable as death. Human weakness and frailty sneaks up on us all and we are constantly faced with the fact, as our age advances, that we are not permanent fixtures. It seems that the Pope has come to terms with this and recognizes that, as much as he still has a spiritual heart for ministry, his humanness has caught up with him and it is time to allow God to work through someone else.
Derision and Cynicism
There are two sets of folks who express this particular sentiment: those who are Protestant and Anabaptist Christians and those who are generally outside of the Christian stream. For those outside of the Christian stream, I honestly am not surprised. Throughout history, here has always been a criticism of those outside the church of the happenings and goings-on within the church. A strong thread of cynicism runs through it with all sorts of doubts of the motivations, integrity, etc., and such going on. This is expected and, considering that historically speaking the church has had problems with integrity and hypocrisy, totally understandable. I would suggest, for those, when it comes to specifically this pope, to read up on who the man was before he became pope and his own sentiments at The Gospel Coalition.
It is those from within the Christian stream that bother me. There is a lot of sentiment among many Protestant (and even Anabaptist) Christians that the Roman Catholic church is somehow one step above pure evil. They call them idolators, Pharisees, false prophets, heretics, etc. Anything that has a hint of Catholicism is seen with great suspicion and much criticism. Mea culpa, I've done it, too. I would point to the same Gospel Coalition article for my brothers and sisters within the broad Christian church as well.
While we may disagree with how the Roman Catholic Church structures its leadership and even with some of the theologically based practices, much as I stated above, we cannot forget that this is a man called into ministry by God and bowing to the same Lord that we all do. Yes, he was appointed by what Catholics consider divine providence, but this does not mean that the same divine providence cannot lead him to stepping down. As far as I can tell, to the best of my ability, Pope Benedict XVI aka Joseph Ratzinger, was a man who sought God and sought to live out his life in service of God. He is imperfect, yes. He is a human after all. But while I may disagree with the Catholic church on some things, I do honor and respect this church leader and cannot be too harsh on him considering that I, too, am an imperfect human.
Fear and Phobia
This last sentiment I wish I didn't have to make mention so forgive me if it is brief. There is, among many, a sense of phobia and fear about the Catholic church and even about this particular pope. Conspiracy theories about the Illuminati, about the Satanic practices of the Catholic church, of all sorts of drivel and such have been flying around about this Pope for all of his years in the position. I am no clairvoyant and I claim no prophetic visions of the future. But it seems that there is a lot of focus and attention on the potential of evil in the world (and yes, there is evil in the world) and not nearly enough on what can be done for good. If the Prophecy of Saint Malachy is true, then so be it. To be honest, we in the body of Christ have nothing to fear when it comes to any eschatological apocalyptic predictions. We have read the back of the book and know what happens at the end and, the good news is, Jesus wins. And if it is not true, then we have not wasted any time and effort over worrying over it. Instead of trying to figure out these end times things, perhaps we should take a look at what we are supposed to be doing about the evil next door.
My Reaction
I don't know how to categorize my reaction except for as a hopeful realism. The reality is that the Pope is a man. And men get old. And men die. And men get weak. And men get sick. This is the realistic fact of what happens when there is a man leading a church, any church. The Pope is a man and men make mistakes. Perhaps the Pope made some wrong decisions and statements in his time in leadership. Perhaps they were actually right on. Again, realistically speaking, the Pope, in absence of anything to the contrary, was a man trying to walk faithfully with his God and to lead the church entrusted to him to the best of his ability, following the Spirit, and leading a Jesus-centered life. I think his announced retirement is the next inevitable step in that realistic view in that, as a man, the Pope is not a permanent fixture but one in a long line of leadership of a historically significant portion of the worldwide Christian church.
But I am hopeful, too. God is still at work in the world and, counter to some people's opinions, I believe God is still at work in the Catholic church. I look back at what Pope Benedict XVI has done in his tenure at the helm and I see much good that he has done. While I may disagree with the particular structure of the church, God is sovereign and can work and act even through the most flawed of human systems. I look forward, with a hope founded in Christ, to seeing who the next Pope will be and how his life will lead the church into the next steps of being Christ's representatives in the world.
Go with God's blessing, Joseph Ratzinger aka Pope Benedict XVI. May God's Holy Spirit continue to be with you and in you as you take these steps into the next stage of your human journey towards Christ.